Pottery Classes Telford
Pottery Class for Beginners
Clay Workshops Shropshire
I can now offer pottery classes in my fab new pottery studio which I built during the pandemic. The build took from October 2020 till the end of March 2021. At the end of March, I moved in and have been enjoying the space. It is right down the back of my garden, and it is very tranquil and the ideal environment for learning pottery. And if you get lucky you might get to see the resident squirrel Barney, or the horses which live in the field behind the studio.
The Hartshill Clay Resort
The pottery studio has a potter wheel, a slab roller, an extruder gun, a spray booth, and a large kiln. I have 3 kilns. Most importantly I have plenty of enthusiasm to teach. Everybody needs to experience the power of creating with clay! You can have a go at making whatever you want.
Studio Pottery Workshops
All clay workshops are £50 an hour per person, or for groups of 4 or more £40 per person per hour. If you would like to come along, use my clay, and create what you want then you are more than welcome. There is no pressure, and you can make whatever you wish. I can direct you and advise you on techniques I have learned over the years.
Everything made will be fired twice – Once for biscuit firing (first pottery firing, turning clay to ceramic), then the second firing is a clear glaze.
PLEASE NOTE: It is much easier to colour pottery once it has been fired where clay has turned ceramic. However, it is possible to add colour straight after making it, it all depends what you make.
If you wish to make a cup and colour it in one setting then two hours is required. First hour for making and, the second for colouring. If you wish to split the hours up and come back a few weeks later to colour, that is also possible. Some items like rose flowers can not be painted until fired, but other flowers can be. Everything then will have a second clear glaze firing.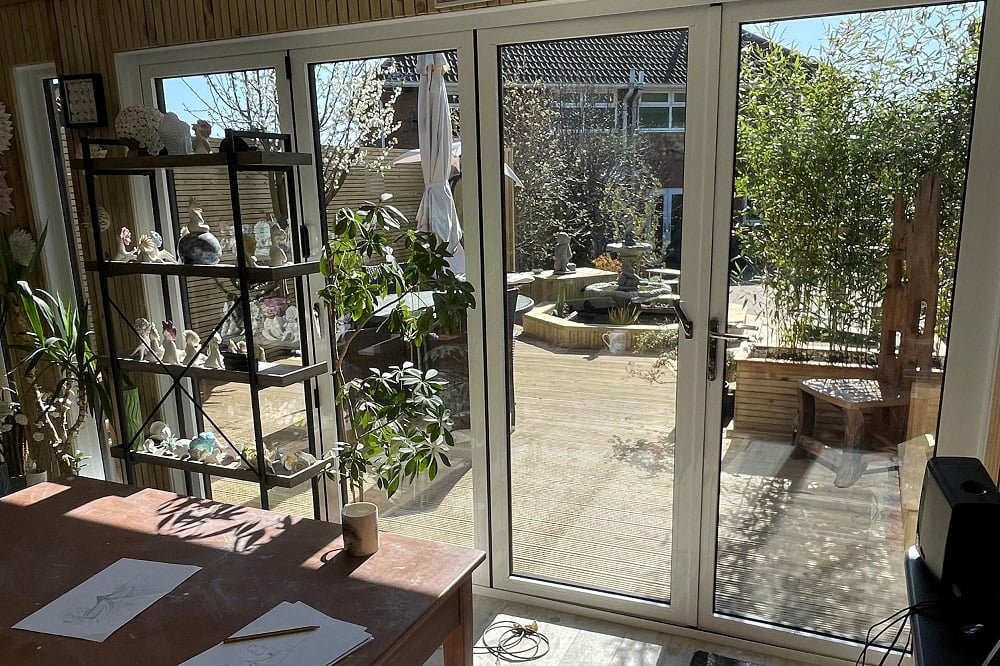 Use the link below to buy pottery class vouchers. You can pay for yourself or download vouchers and gift them to friends. I can also accept payment on the day.
Flower Making Course
4 hours in total – £180
My USP is that I believe I can teach anyone how to make clay flowers. I offer a set flower making course where for 2 hours I will teach flower making. The rose is the easiest, so we start there. But then I can show you any other flower. I will then need a few weeks to fire the flowers. Then a follow-up of 2 hours will be needed for colouring and glazing flowers. There is a third stage which is stemming the flowers. I can do this part for you unless you would rather do that yourself also. Then it's just a matter of picking the flowers up. Below are some people who made flowers on this flower-making course: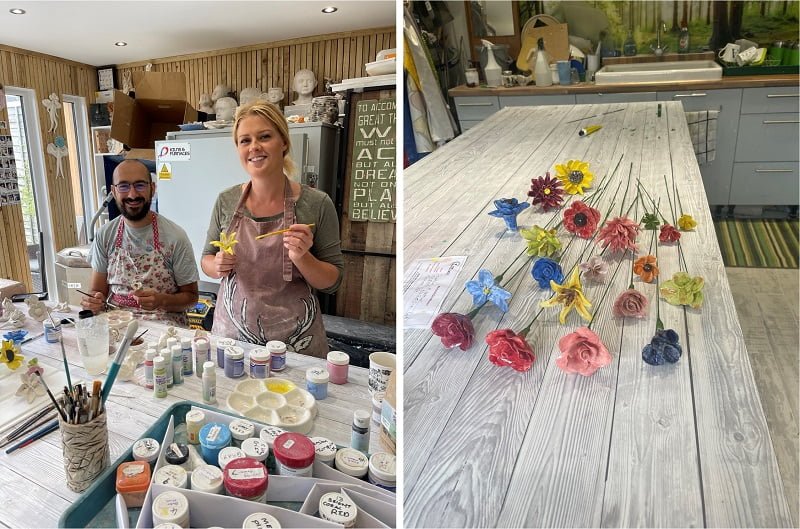 How to book a day and time?
To see availability and book your time you can either call, email me or use the online timetable booking form here.
What to make out of clay?
When you think about pottery or ceramics do you imagine characters Sam & Molly throwing that pot from that scene from Ghost? Want to recreate the 'Ghost Pose' for a cool selfie? My pottery class vouchers make an excellent couple pottery experience gifts. This is one of the reasons I opened up my studio. There are not many places you have have a try at throwing a pot on the wheel.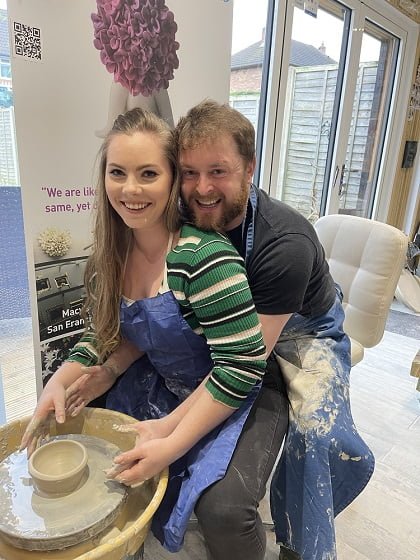 You can have a go at making whatever you want. You could have a go on the potters' wheel, sculpt an animal, coil a pot, or use hump molds to make a bowl. You probably wont leave without making a flower as they are quick and easy.
How many people?
I can accommodate 6-8 people comfortably.
Where is the Pottery Studio?
27 Hartshill Avenue, Oakengates, Telford, Shropshire, TF2 6AP.
Hartshill Avenue turns into a cul-de-sac. As you come down Hartshill Avenue you can go left or right. GO LEFT and my house is just after turning LEFT. If there is space on my drive you are welcome to park on that, or there is a patch of grass opposite my house (see image below).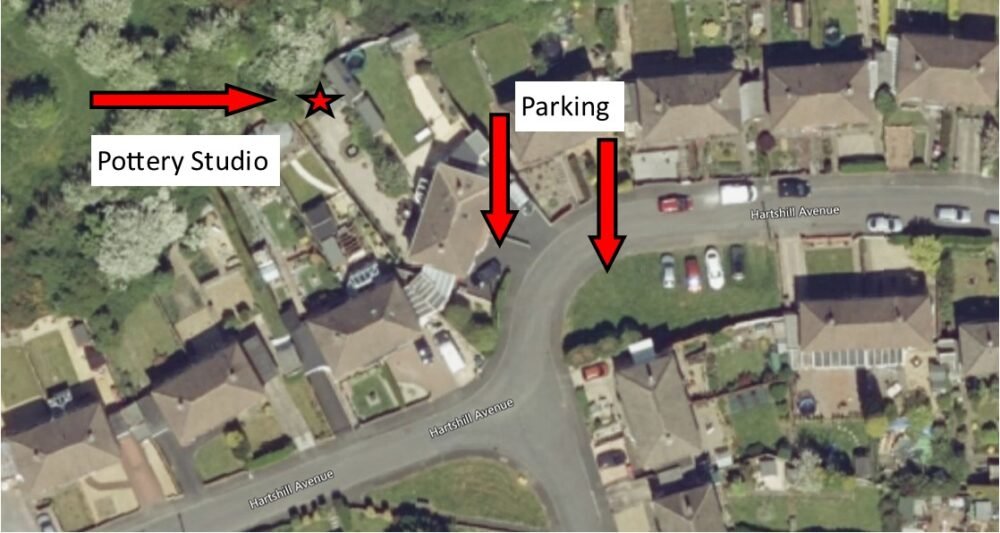 How to book?
You can buy vouchers for yourself and then arrange your time and day (no need to download and print voucher). Or you can call me and arrange a time and day, then pay on the day.
To see availability and book your time you can either call me on 07813 257386, email me or use the online timetable booking form here.
You can also buy vouchers which you can download and print for a gift.
If you think you can't possibly make a flower out of clay, think again. There is no such word as can't in my ceramic studio! Anyone can make a rose, they are simple, trust me. I am an expert flower maker/teacher and there is a knack that I will share. My guinea pig was Vicky, my next-door neighbour. She thought she didn't have an artistic bone in her body. Well, she could make great flowers, take a look at what she said and the flowers she made completely on her own:

My pottery classes for couples are a great fun day out. You will be surprised at what you can make in a couple of hours. You could make a mug, bowl, or sculpture. I will direct you to get the most out of the time spent. Get in touch with me today at 07813 257 386 with your idea. Below are just a few couples who have enjoyed their time here.
Pottery Party's Telford
Would you like me to host a pottery party? Perhaps a group of friends would like to have an afternoon of clay with my tuition. I can accommodate themes or anything else to make it a special day. Get in touch with me today at 07813 257 386 with your idea.
Pottery Class with Drinks
If you are looking for a pottery class with drinks, I can accommodate up to 6. You are welcome to bring some drink and if you want an evening class I can do Mondays, Wednesday, Fridays and Saturdays. Obviously responsible drinking only. But if you fancy a prosecco afternoon creating with clay, you are more than welcome. I have a lovely garden and studio space.
Pottery Class for Kids
Are there any minimum age requirements?
Mature children aged 8 and over. Parents are can watch or join in. Talk to me about regular classes.
Josh below became a regular for a few weeks. Below is his best piece, his alien sculpture: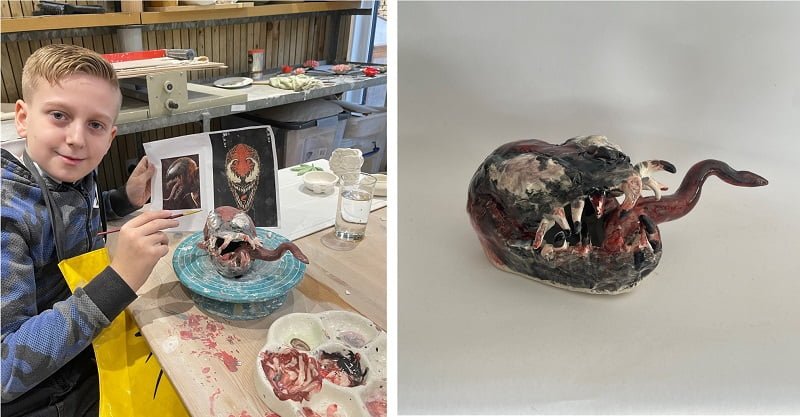 Georgia below was another regular. She made a few pots, a vampire mouth picture frame and lots of miniatures:
Online Pottery Classes
Are you looking for online pottery classes? If so I can oblige. I can teach any pottery technique to anyone anywhere in the world thanks to today's technology. If you would like an online pottery class via video, head over to this page to learn more and book.
Barney the Studio Squirrel
My studio backs onto a field with horses and plenty of wildlife. This is Barney the well-fed studio squirrel.