Online Clay Sculpting Classes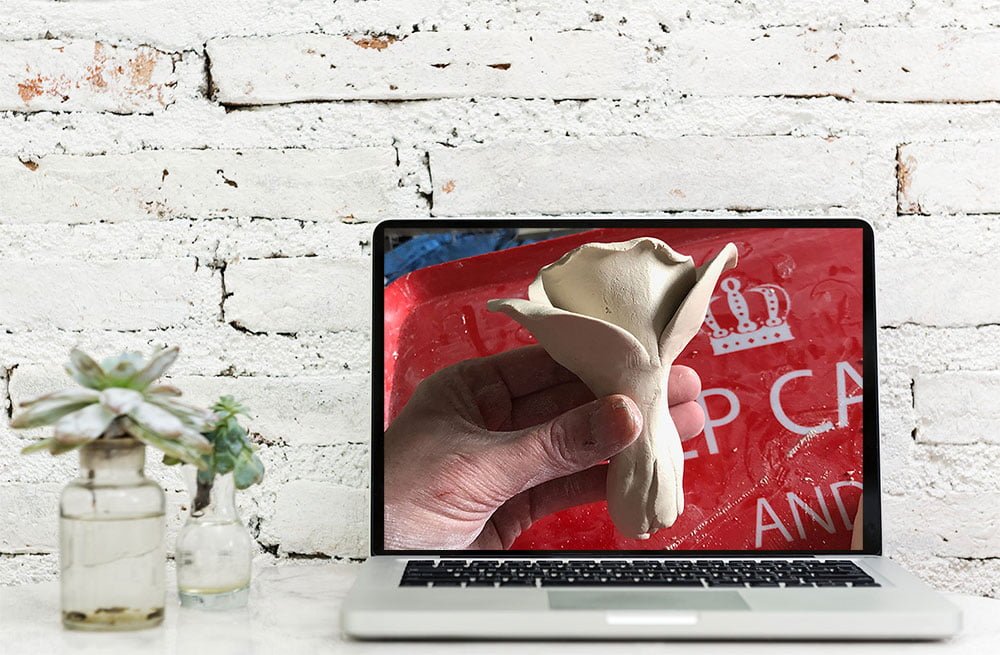 If you are looking for online clay sculpting classes, I can help. I can now offer sculpting tutorials where I show you how to sculpt with clay. If you want to learn to sculpt a flower or anything for that matter I can offer 1 : 1 online sculpture tutorials. All you need is the ability of video calling from either WhatsApp, Zoom, Skype, Facebook or Facetime and wi-fi.
Flower Video Tutorial
Looking around my website you will see I have pages dedicated to clay flower making tutorials, with some flower video tutorial on YouYube. So if its flowers you want to learn then I am your expert. I believe I can teach anyone to make flowers with any material. It will take practice, but once you have learnt the main technique and with my expert pointers you will soon learn to make flowers. I can work with any material. If you want to learn with air drying clay or fimo clay, not a problem. I have made fimo clay flowers in the past but I would need to buy some in. Whatever material you are wanting to learn with, I would try to get hold of the same or similar. I can also happily teach you how to make a flower lady sculpture, this is as long as its for personal use and not to sell on.
Wall Flower Making Tutorial
If you like the look of my clay wall flowers, I can happily teach you how to make one of these. My flowers have graced the window display in Harrods London and also currently in Macy's in San Francisco. If you have seen these and want me to teach you how I made them, that's not a problem. I can make one in less than an hour. To teach you will be all about practicing the making of petals. Once you have mastered the petals which I will easily be able to do within an hour, you can make your own. Or maybe you just want to watch me making a flower in an hour! When I demonstrate flower making at Coalport China Museum, one of the common comments is "I could watch you all day". It is very therapeutic to do and watch, so I can understand if some of you just want to watch me sculpting for the hour.
Clay Sculpture Classes
Looking for an online sculpture class? I have sculpted all sorts of things over the years, I have been told I am a natural when it comes to sculpting. Perhaps you want to learn portrait sculpture or want to sculpt animals or birds. I can show you the best way to approach and sculpt anything step by step. In the past I have made miniature dolls house furniture and bowls, pots, gargoyles, figurative sculptures etc. Even if you want to learn something I haven't made before I am pretty confident I will know the best way to approach it and teach you. If you have had a look at my work and videos and you fancy having an hour personal 1 on 1 tutorial get in touch.
Hand Building Techniques
I can cover all the basic hand building techniques such as slab building, coil building and pinch pottery. Anything that use the hands, fingers, and simple tools is classed as hand building. There are plenty of items around the house that can be used as clay tools for hand building so you don't need to go out and buy anything. Dishes, pots and vases can be made using hand building techniques.
Contact me
 To go ahead I will need the payment up front before the video tutorial takes place.  To see availability and book your time you can either call, email me or use the online timetable booking form here.  I will need to know what video conference service you want to use.  Time will depend on where you are in the world.  But I am happy to run these video classes at any time to suit you.  Even with the worlds different time zones, we will be able to find a time that is suitable. You can email or call me.